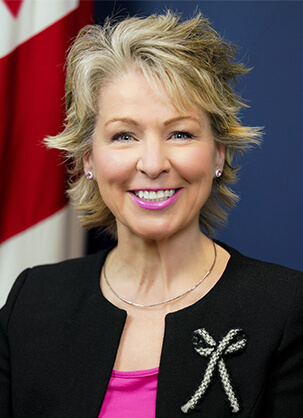 Anne Kelly
DM Co-Chair of APEX Leadership Summit 2021
Anne Kelly, Commissioner, Correctional Service Canada
Anne Kelly was appointed Interim Commissioner on February 5, 2018 and was formally appointed as Commissioner on July 26, 2018.
Ms. Kelly started her career with the Correctional Service of Canada in 1983 as a case management officer at Collins Bay Institution.
Since then, she has served in many roles at CSC. Highlights of her career have included Unit Manager at Warkworth and Joyceville Institutions, Deputy Warden at Mountain Institution, Director General, Offender Programs and Reintegration as well as Deputy Commissioner for Women at NHQ and Regional Deputy Commissioner of the Pacific Region for five years, prior to being appointed as Senior Deputy Commissioner in November 2011.
Daniel Quan-Watson
DM Co-Chair of APEX Leadership Summit 2021
Daniel Quan-Watson, Deputy Minister, Crown Indigenous Relations and Northern Affairs Canada
Daniel Quan-Watson is a proud public servant who is passionate about the role that public institutions play in shaping Canada and the lives of Canadians. His appointment at Crown-Indigenous Relations and Indigenous Affairs is his fifth appointment as a Deputy Minister, having been Deputy Minister (and previously Associate Deputy Minister) of Western Economic Diversification, Chief Human Resources Officer for the Government of Canada and Chief Executive Officer, Parks Canada.
Much of his career has focused on work with Indigenous peoples and issues, having been the Senior Assistant Deputy Minister for Policy and Strategic Direction at the former Indian and Northern Affairs Canada, Director General of the Aboriginal Justice Directorate at the federal Department of Justice, and Director of Aboriginal and Territorial Relations at INAC's Northwest Territories Regional Office. With the Government of British Columbia, he was Director of Treaty Implementation and Settlement Legislation where he led the development of the Nisga'a Final Agreement Act (British Columbia) among other major initiatives and, with the Government of Saskatchewan where he was responsible for first negotiations between provincial Department of Education and what was then the Federation of Saskatchewan Indian Nations.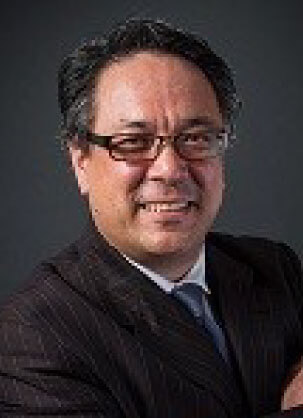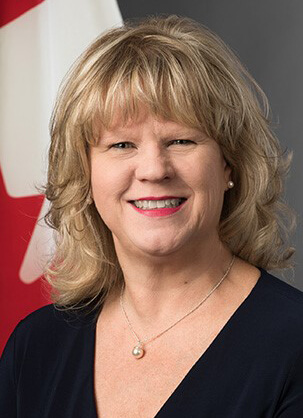 Janice Charette
Interim Clerk of the Privy Council and Secretary to the Cabinet
Janice Charette assumed her responsibilities as High Commissioner for Canada in the United Kingdom of Great Britain and Northern Ireland on September 7, 2016.
Prior to this, Ms. Charette served as Clerk of the Privy Council and Secretary to the Cabinet from October 2014 to January 2016. In this role, she served as the principal public service advisor to Canada's Prime Minister and as the head of the Public Service. Previously, she was Deputy Clerk of the Privy Council and Associate Secretary to the Cabinet as well as Deputy Minister of Intergovernmental Affairs.
In addition, Ms. Charette has held leadership positions in eight departments that covered issues including skills development, labour markets, immigration, citizenship, social security, health, and justice. Her early career included work in finance, privatization, and federal-provincial-territorial relations, as well as in the Prime Minister's Office.
Ms. Charette worked in the private sector from 1996 to 1999, as Principal in the management consulting firm Ernst & Young, and as Director of the Transition Team that organized the start-up of the Canada Pension Plan Investment Board.
Ms. Charette is a champion for community mental health and mental wellness in the workplace. In 2008, she was national Chair for the United Way's Government of Canada Workplace Charitable Campaign, raising over $36 million for communities and national health charities across Canada. She was recognized as one of Canada's Top 100 Most Powerful Women in 2013 and 2014.
She is currently on the board of the Rideau Hall Foundation in Canada, and represents Canada on the Board of Governors of the Commonwealth, the Commonwealth War Graves Commission, the Commonwealth War Graves Foundation and the Imperial War Museum.
Ms. Charette attended Carleton University, where she received a Bachelor of Commerce.
Jacqueline Rigg
Jacqueline Rigg was appointed Chief Executive Officer of the Association of Professional Executives of the Public Service of Canada (APEX) in June 2019. APEX is a not-for-profit corporation dedicated to the professional needs, of the senior leadership of the federal public service.
Jacqueline comes to APEX after serving as Assistant Deputy Minister of the Human Resources Branch at Canada Border Services Agency. She has also served as Director General Human Resources at both Canada Border Services Agency and the Department of National Defence as well as, positions at Treasury Board of Canada Secretariat and Communications Security Establishment. Prior to joining the public service in 2007, she was an executive at Bell Canada, where she held positions in Finance, Marketing and Communications.
Jacqueline holds a Bachelor of Commerce Degree Honours (Major Finance) from the University of Ottawa and an Executive Leadership Program Certification from Queen's University. She is a seasoned talent management and leadership coach certified by the World Customs Organization and delivers training internationally. She is active in community youth programs, sits on the Board of Trustees of the Ottawa Grace Manor and is a Champion and co-founder of the Black Women's Executive Network.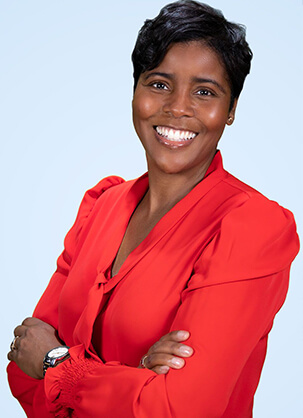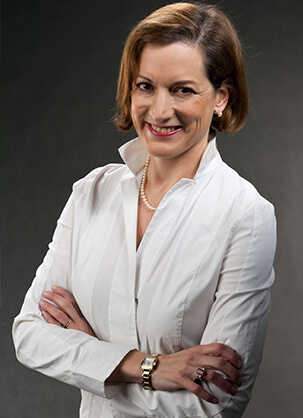 Anne Applebaum
Pulitzer Prize winning historian, journalist and commentator on geo-politics, Anne Applebaum examines the challenges and opportunities of global political and economic change through the lenses of world history and the contemporary political landscape.
Anne's Pulitzer Prize-winning Gulag: A History is about the Soviet concentration camps. Her book, Red Famine: Stalin's War on Ukraine, is the winner of her second Duff Cooper Prize and the 28th Lionel Gelber Prize 2018. In it, Anne proves what many suspected: Stalin set out to destroy the Ukrainian peasantry. Anne is the only author to win the Duff Cooper Prize twice. Her other books include Iron Curtain: The Crushing of Eastern Europe, 1944-1946, which won a Cundill Prize for Historical Literature, and Between East and West: Across the Borderlands of Europe.
In July 2020, Penguin published 'Twilight of Democracy: The Seductive Lure of Authoritarianism" – in this work, she outlines eloquently why elites in democracies around the world are turning toward nationalism and authoritarianism. The book became an immediate NYT best-seller in the non-fiction section. Anne was later named one of "The Top 50 Thinkers of the Covid-19 Age" by Prospect magazine. In December 2020, Barack Obama listed this book as one of his favourite reads of the year.
She is a Senior Fellow of International Affairs and Agora Fellow in Residence at the Johns Hopkins School of Advanced International Studies in Washington, DC. Anne attended Yale University and was a Marshall Scholar at the London School of Economics and St. Antony's College, Oxford.
Diane Bergeron
Diane Bergeron was diagnosed with retinitis pigmentosa at the age of five. By the time she was ten, she was considered legally blind, and lost all sight in her 30's. Undaunted, Diane continues to achieve whatever goal she sets her sights on – from higher education: she has her Master of Arts in Leadership – to physical fitness: she recently completed an Ironman. What many would call a disadvantage, Diane has turned into an incredible strength.
Through all of Diane's work, sport and volunteer activities, she demonstrates resilience and a commitment to improving the quality of life of all people. Diane is currently a Vice President for the Canadian National Institute for the Blind (CNIB), in a national and international advocacy role, and has held an array of other high-level positions in organizations that advocate for people with disabilities. She has held many positions responsible for organizational governance and public relations. Whether it's participating as secretary of her child's Parent Council, or President of the National Educational Association of Disabled Students, Diane brings together her experience and passion to the role.
Diane also founded Blind Iron Vision, through which she continues to advocate, to teach, to connect and to provide motivational and leadership speaking. In her career, volunteer work and in her personal friendships, Diane continually helps others to understand that people are more than any label that has been placed on them.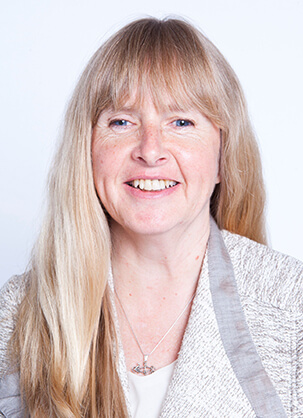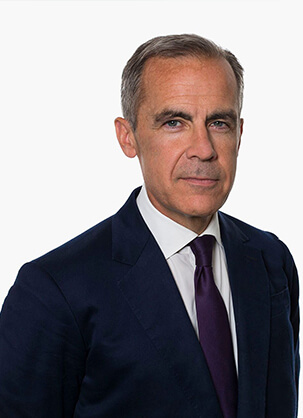 Mark Carney
Mark Carney is a Vice Chair of Brookfield Asset Management and Head of ESG and Impact Fund Investing. In this role, he is focused on the development of products for investors that will combine positive social and environmental outcomes with strong risk-adjusted returns.
Mr. Carney is an economist and banker who served as the Governor of the Bank of England from 2013 to 2020, and prior to that as Governor of the Bank of Canada from 2008 until 2013. He was Chairman of the Financial Stability Board from 2011 to 2018. Prior to his governorships, Mr. Carney worked at Goldman Sachs as well as the Canadian Department of Finance. He is a long-time and well-known advocate for sustainability, specifically with regard to the management and reduction of climate risks, and is currently the United Nations Special Envoy for Climate Action and Finance.
Mr. Carney received a bachelor's degree in Economics from Harvard University and a master's degree and doctorate from Oxford University.
Judy Croon
Judy is a comedian, motivational speaker (including Ted Talks), radio host, Second City stand up coach and author. She has worked with many celebrities including: John Cleese, Jon Stewart and Joan Rivers. Her specials have appeared on NBC, CBS, CTV and The Comedy Network.
She is a co-author of 'From the Stage to the Page: Life Lessons from Four Funny Ladies!" Judy draws from her stand up and coaching experience to entertain, inform and inspire in her dynamic presentations. She is a regular volunteer with City Street Outreach – a program that feeds Toronto's homeless and needy. Judy is the creator/host of 'Laughlines' and 'Stand Up For The Girls' which have both helped raise over $650,000 for breast cancer research.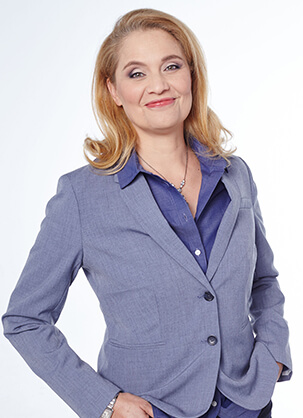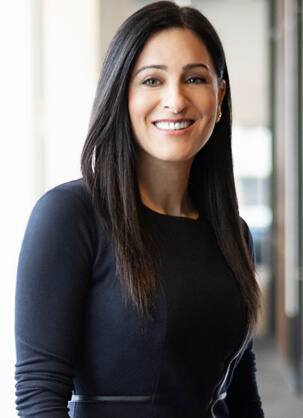 Rola Dagher
Dell Technologies' Global Channel Chief, Rola Dagher, believes that leadership is not simply a role that you fill; it is an action that you take each day. Over her career of more than two decades, Dagher has worked with some of the brightest minds in the technology industry while honing her natural leadership style. Dagher has returned to Dell Technologies after leading as President of Cisco Canada for three years. Prior to this, she held various sales leadership roles at Dell and Bell Canada. While Dagher is a proven sales and channel champion, she will be the first to say that her success is a direct reflection of the dedication and drive of the entire sales organization.
Dagher believes in diversity of thought and has made it her mission to empower, support, and foster diverse talent. Her commitment to empowering women is shown through her recognition as one of the 2020 Top 25 Women of Influence™, by WXN as one of Canada's Most Powerful Women: Top 100™, and by Women in Communications and Technology (WCT) as the 2019 Woman of the Year. She was selected as one of RBC's Top 25 Canadian Immigrant winners for 2019, was named the "Lady of the Cedar" by the Lebanese Embassy, and received a 2018 Leadership Award from the Lebanese Chamber Business of Commerce.
In addition to her role at Dell Technologies, Dagher is heavily involved at the community level. She sits on the board of Cedars Cancer Foundation and she is a co-founder of the BlackNorth Initiative. Dagher also sits on the Circle of Champions for the Toronto Region Immigrant Employment Council, promoting growth through diversity in the workplace. A champion of mental health, Dagher sits on the foundation board for the Centre of Addiction and Mental Health. She also sits on the advisory board for Catalyst, where she supports their work to accelerate progress for women in the workplace and is a member of the Kids Help Phone board. Finally, as an active member of the Business Council of Canada and a member of the U.S.-Canada Innovation Partnership, Dagher helps shape policy around the workforce of the future and promotes the adoption and acceleration of emerging technologies, innovation, and research.
Laurent Duvernay-Tardif
His meteoric rise has been so remarkable that the Kansas City Star called him "the most interesting man in the NFL." And for good reason: not only does Laurent Duvernay-Tardif play for the Kansas City Chiefs, he also studied medicine at McGill University. In May 2018, he graduated with his doctorate in medicine, earning one of the biggest accomplishments of his life.
In May 2014, at the age of only 23, the Mont-Saint-Hilaire native became the 10th Canadian to be drafted by an NFL team from a Canadian university. In his second season in Kansas City, the six-foot-five-inch 320-pound player earned the position of right guard on the team.
Passionate about both football and medicine, Laurent turned a deaf ear when counsellors and family members advised him to choose between sports and studies. And it proved to be the right choice! "It's all about balance. Don't give up on your passions!" he tells the young people he meets at the many talks he gives at schools.
During the spring of 2020, Laurent lent a helping hand during the Covid-19 pandemic by working as an orderly at a long-term care facility in the Montreal area. In July 2020, Laurent announced that he was opting out of the 2020 NFL season due to Covid-19, becoming the 1st player of the 2020 NFL season to announce his decision to opt-out. In 2020, he was named co- recipients of the Sports Illustrated Sportsperson of the Year award as well as the co-winner for the 2020 Lou Marsh Trophy.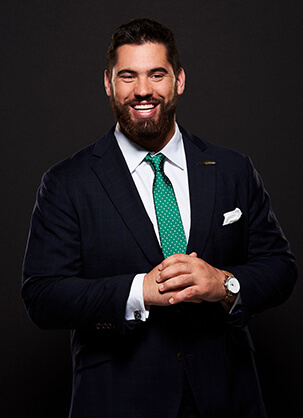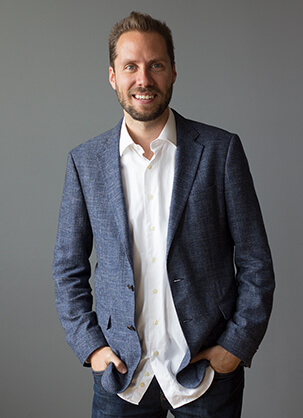 Jeremy Gutsche
Jeremy Gutsche (GOOCH-AY) is a New York Times bestselling author and award-winning innovation expert, one of the most requested keynote speakers on the planet, and the founder of TrendHunter.com, the world's #1 most popular trend website, attracting over 3 BILLION views from 150,000,000 total visitors. Prior to Trend Hunter, Jeremy grew a $1 billion portfolio for a bank, and today over 700 brands, billionaires and CEOs rely on his unique expertise to FIND BETTER IDEAS FASTER. He has been described as "a new breed of trend spotter" by The Guardian, "an eagle eye" by Global TV, an "Oracle" by the Globe and Mail, an "intellectual can of Red Bull" by Association Week and "on the forefront of cool" by MTV.
Catherine Luelo
Catherine Luelo was appointed Senior Vice President and Chief Information Officer in August 2017, with overall responsibility for the Information Technology systems that support and enable Air Canada's global business.
In this role, Catherine oversees the strategic technology direction for the airline which includes driving ongoing investment in this critical area, in addition to her role in leading innovation, delivery, and ensuring the security and reliability of Air Canada's worldwide operational, commercial, customer service and administrative information systems. She also leads Air Canada's technology transformation, including the implementation of complex, multi-stakeholder initiatives, new core airline systems and the technology to support Air Canada's new loyalty program.
Prior to joining Air Canada, Catherine held executive roles at Enbridge Inc., including Chief Information Officer and, prior to that, Vice President, Information Technology. She previously served in several key senior management roles at major Canadian companies, including Vice President, Distribution, at WestJet Airlines Ltd., and Director of Sales at TELUS Communications.
Catherine holds an MBA from Athabasca University in Alberta and a BSc from the University of Alberta. In 2018, she was appointed to Board of Directors of scale ai, the Montreal-based Artificial Intelligence (AI) supercluster, that aspires to increase competitive advantage for Canada globally in the emerging AI space. She also serves on the CIO Advisory Board for IBM and Amadeus as well as the Bell Customer Advisory Board. In March 2020, she was appointed to the Board of Directors for the Center for Addiction and Mental Health (CAMH) Foundation. In October 2020, she was appointed as the Chair of Health Canada's Industry Advisory Roundtable on COVID-19 Testing, Screening, Tracing and Data Management, and in January 2021, she was appointed to the Creative Destruction Lab Rapid Screening Consortium's Board of Directors.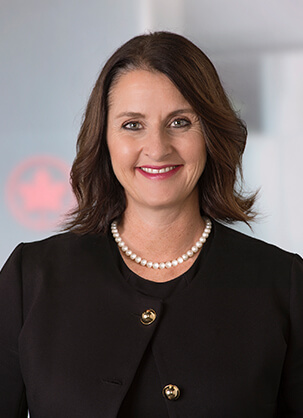 The Honourable Frank McKenna, P.C., O.C., O.N.B., Q.C.
Frank McKenna is one of Canada's most respected political and business leaders. He has been an executive with TD Bank Group since 2006 and joined TD Securities in January 2020. As Deputy Chair, he is focused on supporting the continued expansion of TD Securities' global footprint.
He is a graduate of St. Francis Xavier University, Queen's University and the University of New Brunswick Law School. He was awarded a prestigious Lord Beaverbrook Scholarship in Law and has practiced in courtrooms all the way up to the Supreme Court of Canada. He achieved widespread acclaim for his successful defence of Canadian boxing legend, Yvon Durelle.
He was elected Premier of New Brunswick in 1987 in a historic victory that left him with all 58 seats in the legislative assembly. His time as a Premier was marked with widespread acclaim for balanced budgets and unprecedented job creation. He was the only politician in Canadian history to ever be named as Economic Developer of the Year and was inducted into the Canadian Technology Hall of Fame.
In 2005 he accepted an invitation from Prime Minister Paul Martin to become Canadian Ambassador to the United States of America. Upon completing his time as Ambassador, he resumed his corporate career with TD Bank Group, one of North America's largest banks. He also became the Chairman of Brookfield Asset Management, a global asset manager with $500 billion in assets. Additionally, he became a Director of Canadian Natural Resources (CNRL), Canada's largest oil and gas producer.
Patrice Njoh
Patrice is a consulting leader in Deloitte's Organization Transformation Practice (Strategic Change) with over 10 years of experience helping organizations in Canada and abroad implement change successfully. She specializes in aligning people and behaviors to enable enterprise transformations and focuses on strategic change management and implementation, Diversity, Equity and Inclusion (DEI) and leadership alignment. In addition, Patrice also leads Deloitte's DEI Community of Practice. She has supported a broad range of clients and approaches her work from a client-centered perspective with a strong focus on results.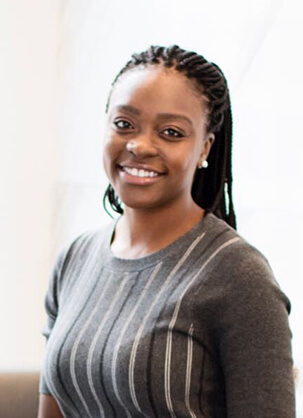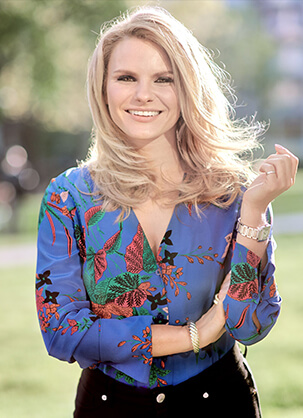 Michele Romanow
Tech titan Michele Romanow is a serial entrepreneur who started six companies before her 35th birthday. A "Dragon" on CBC's hit show Dragons' Den, Romanow is the Co-founder and President of Clearbanc. Clearbanc has invested more than $1B into 3,300 companies making them the biggest ecommerce investor in the world. She previously co-founded SnapSaves, acquired by American tech giant, Groupon, and Buytopia.ca, which acquired ten competitors, including Shop.ca and WagJag. As a highly in-demand speakers, Romanow brings her incredible entrepreneurial savvy to every stage.
In 2015, Romanow became the youngest judge on CBC's Dragons' Den (Canada's Shark Tank), and has been a 'Dragon' for the last six seasons. A prolific investor, Romanow was recently named Fortune's 40 under 40, a Young Global Leader by the World Economic Forum, one of Canada's Most Powerful Women and Canada's Angel Investor of the Year.
Romanow has created digital solutions for many of the world's leading brands, including P&G, Netflix, Starbucks, and Cirque du Soleil. In the media, Romanow's work has been profiled in The Wall Street Journal, Forbes, Fortune, TechCrunch, and The Globe and Mail.
Romanow is a director for Vail Resorts, Freshii, BBTV and League of Innovators. Previously she was a director for Whistler Blackcomb and SHAD International. Romanow also co-founded the Canadian Entrepreneurship Initiative non-profit with Sir Richard Branson.
Blair Sheppard
Blair Sheppard joined PwC in June 2012 as Global Leader, Strategy and Leadership. Blair leads the team that is responsible for articulating PwC's global strategy across 158 countries and development of the current and next generation of PwC leaders. He is also Professor Emeritus and Dean Emeritus of Duke University's Fuqua School of Business.
Prior to joining PwC, Blair spent the majority of his career as a Professor at the Fuqua School of Business, Duke University.  During his tenure, Blair served several roles, including Associate Dean for Executive Education, during which Fuqua created one of the world's first blended degrees, the Global Executive MBA, and founding CEO and Chairman of Duke Corporate Education, which was rated by the leading business journals as the world's top provider of custom executive education for nine years in a row. As Dean, Blair was also the primary architect of Duke Kunshan University, which opened in 2014. His final role prior to joining PwC was as Special Advisor to Duke Kunshan University.
Blair has advised more than 100 companies and governments in the areas of leadership, corporate strategy, organizational relationships and design, and has published more than 50 books and articles. His most recent publications include Adapting to a new world and The urgent need for sophisticated leadership both in strategy+business magazine. His latest book Ten Years to Midnight was published on August 4, 2020.
Blair received his Doctorate in social psychology from the University of Illinois in 1980 and his Masters from the University of Western Ontario (London, Ontario) in 1977.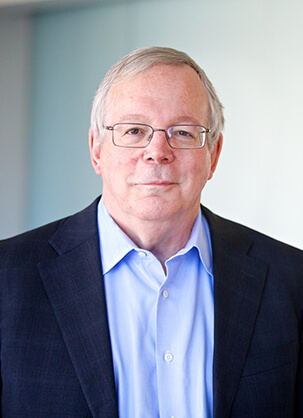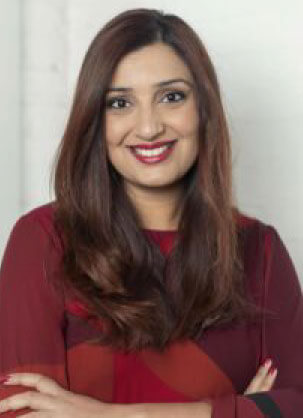 Samra Zafar
Samra Zafar is an award-winning internationally renowned speaker, bestselling author, and educator for equity, mental health, and human rights. She has been recognized among the Top 100 Most Powerful Women in Canada, Top 25 Most Inspirational Women in Canada, and Top 25 Canadian Immigrants. Her book, A Good Wife: Escaping The Life I Never Chose, based on her journey of escaping an abusive child marriage to pursue her education and shed light on gender-based oppression, is a national bestseller, was one of CBC's Best Books of 2019, and is being adapted to a premium TV series. She serves as a Governor at the University of Toronto, a Celebrated Ambassador for Plan International, and a board member for Women's College Hospital Foundation. Her work has impacted millions and has been extensively featured in national and global media. Samra's speaking portfolio includes three successful TED Talks, and many leading corporations, universities, and non-profits around the world.
A Good Wife: Escaping the Life I Never Chose – Book